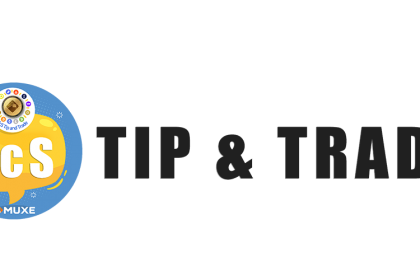 ℹ️ CcSTipAndTrade COMMANDS
• /tipping is used to transfer a certain amount of tokens to another person. To do this you must write in response to one of the messages of the recipient /tipping QUANTITY CURRENCY. For example: /tipping 50 MUXE
• /cv is used to convert one currency to another. For example: /cv 500 MUXE PAR gives you the equivalent in PAR of a total of 500 MUXE
• /pc is used to check the price of any currency listed on the bot. For example: /pc MUXE gives you the price, volume and capitalization of MUXE
• /airdrop is used to distribute a certain amount among a certain number of users. For example: /airdrop 500 50 MUXE would give an airdrop in which a total of 500 MUXE would be distributed to 50 per person, so it would serve for a total of 10 people. Once completely distributed, "Visit web" appears. Therefore, the correct format would be /airdrop {TOTAL AMOUNT TO BE DISTRIBUTED} {AMOUNT PER USER} {NAME OR TICKER OF THE CURRENCY TO BE DISTRIBUTED}
ℹ️ TRADING on CcSTipAndTrrade
When clicking on Trade in the bot menu you must follow the following steps:
↗️ Select if you want to create an exchange order or accept an existing order. Once you've decided what to do, you can proceed to it.
⁉️ Accept an existing order:
You will see a list of existing exchanges, just click on one of them and accept the offer. You need to have enough funds in your wallet that are required by the creator of the corresponding order.
💴 Create a new exchange order:
Simply click on the trade button and then on "create order". After this write the amount and currency you want to exchange. For example: 1000 MUXE. Once this is done, you must specify the amount you want to receive in total: 0.2 ETH for example. Finally, confirm that you want to create the order. Now your order will be available in the market and anyone who is using the bot can accept your offer.
📖 You can check the order book with all sells and buys of different coins out by clicking in "Open Orders" in the bot or directly through the following channel: https://t.me/CcSTipandTradeTrades. Once someone makes an offer this will immediately appear in the respective pair.
⚠️ In the channel order book, the first quantity is THE OFFERED BY the seller and the second IS THE PURCHASE. That is, if 3000 MUXE <—> 5 HLX comes out, the person who made the order intends to obtain 5 HLX for 30,000 MUXE that he sells. You would be giving the HLX for the MUXE.